My Blog
Posts for tag: gum disease
By Western Slope Dental Center
July 24, 2019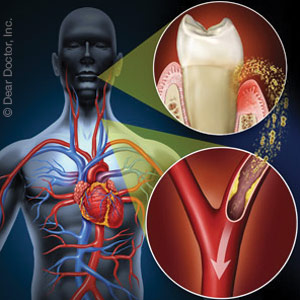 If you have periodontal (gum) disease, you probably already know you're in danger of eventual tooth and bone loss if the infection isn't brought under control. But if you also have diabetes, the effects from gum disease could extend well beyond your mouth.
Gum disease is a bacterial infection caused by plaque, a film of food remnant that builds up on tooth surfaces mainly due to poor oral hygiene. As the infection grows, your body's immune system responds by flooding your gum tissues with antibodies to fight it, resulting in inflammation. As the inflammation persists, though, it damages the gum and underlying bone tissue, which in turn leads to gum and bone loss from the teeth.
Diabetes also causes an inflammatory response within the body. The disease develops either as a result of the body's decreased ability to produce insulin to balance the glucose (sugar) levels in the bloodstream (Type 1) or the body develops a resistance to insulin's effects (Type 2). As a result diabetics experience abnormally high blood glucose levels, a condition called hyperglycemia. This triggers chronic inflammation that can lead to inhibited wound healing, increased risk of heart, kidney or eye disease, coma or death.
Gum disease can worsen diabetic inflammation, and vice versa. The effects of the oral infection add to the body's already overloaded response to diabetes. In turn, the immune system is already compromised due to diabetes, which can then increase the severity of the gum disease.
Research and experience, though, have found that pursuing treatment and disease management for either condition has a positive effect on managing the other. Treating gum disease through plaque removal, antibiotic therapy, surgery (if needed) and renewed oral hygiene will diminish the oral infection and reduce the body's immune response. Caring for diabetes through medication, diet, exercise and lifestyle changes like quitting smoking will in turn contribute to a quicker healing process for infected gum tissues.
Treating gum disease when you have diabetes calls for a coordinated approach on both fronts. By caring for both conditions you'll have a more positive effect on your overall health.
If you would like more information on the relationship between diabetes and gum disease, please contact us to schedule an appointment for a consultation.
By Western Slope Dental Center
December 29, 2017
According to the American Dental Association, 47.2 percent of adults over the age of 30 have chronic periodontitis in the United States.
Periodontal disease is also the leading cause of tooth-loss in adults, which is why you need to make sure you visit your Grand Junction, CO, dentists, Drs. Brandon Berguin, Kira Funderburk and William Berguin, for your bi-annual dental checkup.
Periodontal Disease:
Periodontal disease, also known as gum disease, is caused by plaque. Dental plaque is a sticky substance that contains bacteria after someone consumes a sugar-containing meal. When teeth aren't thoroughly brushed, the buildup of plaque on teeth becomes hard tartar.
When tartar, or calculus, accumulates on your gums, you may notice swelling and your gums bleeding easily. If you start noticing these symptoms, this means you're experiencing gingivitis.
Here are some more symptoms to keep a lookout for:
Bad breath or bad taste that persists
Gums pulling away from teeth
Loose permanent teeth
Gums that are red, bleed easily or are swollen
Reasons for Gum Disease:
Besides plaque, which is a result of poor dental hygiene, there are other factors that contribute to the increased risk of periodontal disease:
Crooked teeth that can't be cleaned properly
Pregnancy
Diabetes
Smoking and chewing tobacco
Medications
Genetics
Prevention:
You should have an oral and dental examination at your Grand Junction family dentist's office every six months. In addition to visiting your doctor, maintaining a healthy oral habit is essential. Make sure to brush your teeth twice a day; brush your teeth after you eat breakfast and before you go to bed with a soft-bristled toothbrush. In addition to brushing, flossing daily, before going to bed, will help remove food debris and reduce the buildup of plaque.
In addition to oral hygiene, avoid eating sugary foods, like sodas and candy. Resort to a healthier diet, like apples and carrots which help scrape off tartar from the surface of your teeth, and drinking water, which can wash away food debris.
Scaling and Root Planing
Sometimes gum disease doesn't respond to conventional treatment and self-care like flossing so you may require scaling and root planing. Scaling and root planing helps gums reattach to the tooth structure.
The procedure begins with:
Administration of a local anesthetic
Then a small instrument called a scaler is used to clean plaque and tartar beneath your gum line
The root surfaces on the tooth are then planed and smoothed
If you want to schedule an appointment with Drs. Brandon Berguin, Kira Funderburk and William Berguin, a bi-annual checkup or because you suspect you may be suffering from gum disease, call (970) 241-3483. His office is conveniently located in Grand Junction, CO, so don't hesitate to visit them as soon as possible.