My Blog
Posts for tag: Oral Hygiene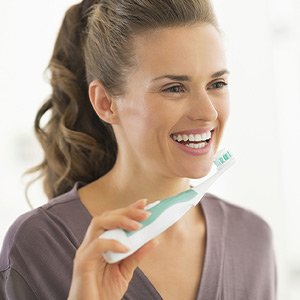 Brushing and flossing are foundational to good oral health and an essential part of daily life. Practicing both these habits removes most disease-causing bacterial plaque from tooth and gum surfaces.
It doesn't take much to manually perform them — a quality soft-bristle toothbrush, fluoride toothpaste and string floss. But what if you have a physical impairment that makes performing these tasks difficult to perform — or your mouth condition requires a little more "power" to adequately access and clean surfaces?
You do have power options for both brushing and flossing. Electric toothbrushes, of course, have been available since the 1950s. As with other technology, they've improved in quality and affordability over the last few decades. They're available in various sizes, rechargeable or battery, and each with their own claims of cleaning ability.
The ultimate question, though, is: are they as effective at removing plaque as manual brushing? That's been the subject of a number of comprehensive studies, including one conducted by the Cochrane Collaboration, a research organization. They evaluated a number of powered toothbrushes over various lengths of time. They concluded that some powered toothbrushes with a rotation-oscillation action had a statistically significant (though modest) reduction in plaque compared with manual toothbrushes.
As to flossing, admittedly it does take some dexterity to accomplish effectively. Traditional string flossing is also difficult if not impossible for people with braces or similar access restrictions to the teeth. An oral irrigator (or water flosser) is a viable alternative. Water flossers work by pulsating water at high pressure through special tips at the end of a handheld or countertop device. The pressurized stream penetrates between teeth and below the gums to flush away plaque.
Are water flossers effective? According to one recent study orthodontic patients were able to remove up to five times the plaque between teeth as those who used only a manual toothbrush.
When considering alternatives to your manual toothbrush or string floss, speak with us first. We'll be happy to guide you toward the best form of brushing and flossing to do the most good in your situation.
If you would like more information on oral hygiene options, please contact us or schedule an appointment for a consultation.
By Western Slope Dental Center
July 10, 2018
Most patients know how important it is to keep their mouths clean, but don't take the actions necessary to maintain good oral health. After a busy day, it can be tempting to eat and then lay down without brushing or flossing. The evidence of whether you're keeping good oral hygiene habits is shown when you go to the dentist for an examination. Restore your smile health with the help of a dentist at Western Slope Dental Center in Grand Junction, CO.

A Good Oral Hygiene Habit
You've probably been told the importance of brushing your teeth ever since you were a young child. Brushing keeps your teeth free from the leftover food particles, film, and sugar that can cause dental decay. The American Dental Association says that brushing twice per day is a critical behavior if you want to avoid oral infections. But there are more steps that you must take if you want to maintain the health of your teeth and gums in the long run.

Better Oral Hygiene Habits
Brushing your teeth at the beginning of the day and at night is good, but simply not enough to care for your oral health. For instance, some people brush religiously but never floss, which is another critical hygienic behavior. Follow these tips for better oral care:

- Floss after meals or at the very least before you go to bed each night. Make sure you floss all quadrants of your mouth, including the front top and bottom.
- Brush your tongue to remove the dental film, which also contains bacteria.
- Rinse with hydrogen peroxide or a mouthwash recommended by your Grand Junction dentist.
- Eat foods that promote good dental health, including vegetables, fruits for snacks, yogurt, and cheese for calcium.

A Healthy Smile
A clean and well-maintained smile is a healthy smile. Remember that after eating and drinking, unhealthy bacteria in your mouth become more active and need to be removed before they have a chance to create plaque and tartar. Keeping good oral care habits helps keep a healthy balance of good versus bad bacteria in your mouth.

Your Next Checkup
When you commit yourself to better oral hygiene habits, you may find yourself looking forward to your next check-up. Schedule an appointment with Dr. Brandon Berguin, Dr. William Berguin, or Dr. Kira Funderburk at Western Slope Dental Center in Grand Junction, CO, today by calling (970) 241-3483.