My Blog
Posts for: December, 2018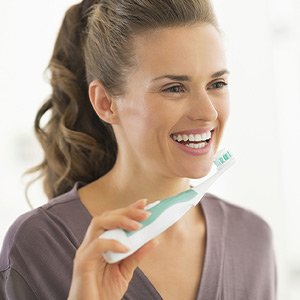 Brushing and flossing are foundational to good oral health and an essential part of daily life. Practicing both these habits removes most disease-causing bacterial plaque from tooth and gum surfaces.
It doesn't take much to manually perform them — a quality soft-bristle toothbrush, fluoride toothpaste and string floss. But what if you have a physical impairment that makes performing these tasks difficult to perform — or your mouth condition requires a little more "power" to adequately access and clean surfaces?
You do have power options for both brushing and flossing. Electric toothbrushes, of course, have been available since the 1950s. As with other technology, they've improved in quality and affordability over the last few decades. They're available in various sizes, rechargeable or battery, and each with their own claims of cleaning ability.
The ultimate question, though, is: are they as effective at removing plaque as manual brushing? That's been the subject of a number of comprehensive studies, including one conducted by the Cochrane Collaboration, a research organization. They evaluated a number of powered toothbrushes over various lengths of time. They concluded that some powered toothbrushes with a rotation-oscillation action had a statistically significant (though modest) reduction in plaque compared with manual toothbrushes.
As to flossing, admittedly it does take some dexterity to accomplish effectively. Traditional string flossing is also difficult if not impossible for people with braces or similar access restrictions to the teeth. An oral irrigator (or water flosser) is a viable alternative. Water flossers work by pulsating water at high pressure through special tips at the end of a handheld or countertop device. The pressurized stream penetrates between teeth and below the gums to flush away plaque.
Are water flossers effective? According to one recent study orthodontic patients were able to remove up to five times the plaque between teeth as those who used only a manual toothbrush.
When considering alternatives to your manual toothbrush or string floss, speak with us first. We'll be happy to guide you toward the best form of brushing and flossing to do the most good in your situation.
If you would like more information on oral hygiene options, please contact us or schedule an appointment for a consultation.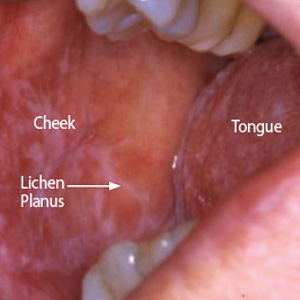 When you visit us for your regular checkup we're examining more than your teeth and gums. We're also checking to see if you're having problems with soft tissues in and around your mouth.
Besides canker sores, rashes or other types of abnormalities, our exam may uncover strange looking lesions known as lichen planus on the inside of the mouth. These purple-tinted bumps or rash-like discolorations are named for their similarity in appearance to lichen fungi found on trees or rocks. Although these mouth sores may look odd, they're fairly rare and usually do not cause concern.
Most people don't even know they have lichen planus until it's discovered during a dental exam. If there are any symptoms, it's usually a feeling of roughness, tenderness or itching. They may increase your sensitivity to spicy or acidic foods, but rarely cause extreme pain. If they're located around the gums, you may also notice a little soreness after brushing or eating.
To confirm it is lichen planus, we need to perform a biopsy. During this procedure, we remove a tiny amount of the affected tissue and have it examined microscopically. We do this not only to determine the correct diagnosis, but also to rule out more serious problems like pre-cancerous lesions or oral cancer.
Thankfully, though, this worst case scenario is quite rare, and although the condition can't be cured, there are some things you can do to keep any discomfort to a minimum. If the lesions are irritating, we recommend using a soft toothbrush with gentle brushing action. You may also want to limit or avoid spicy or acidic foods like citrus, tomatoes, hot peppers and caffeinated drinks. Managing stress can also help. For some extreme conditions, we can prescribe a topical steroid to help relieve discomfort.
If you notice any of the above symptoms, be sure to contact us or point it out at your next appointment. Once we know what we're dealing with, we can take steps to treat you.
If you would like more information on different types of mouth sores, please contact us or schedule an appointment for a consultation. You can also learn more about this topic by reading the Dear Doctor magazine article "Lichen Planus."